Operation Center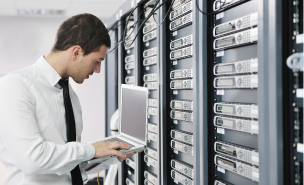 The Forum Research Operation Center is located in the heart of downtown Toronto and boasts access to multiple carriers with redundant links to the Internet and Telco connections. Our operations center is active five days a week Monday to Friday from 9 am to 11 pm (EST.) as well as on Saturday and Sunday from 10am to 5pm. For customers requiring extended coverage beyond these hours, we do have on-call staff in charge of supporting and monitoring our servers and databases on an ongoing basis.
Our servers and databases are housed in a securely alarmed building with the appropriate authorized access programs. Back-up databases are located at an alternate site for recovery purposes in the unfortunate event of a disaster. Our software systems are in multiple server configurations to support our customer needs and security. At Forum Research we rely on industry leading servers from Dell and Hewlett Packard and do not allow the use of any form of database virtualization in our Operation Center structure.
OC Software Security
The security of our customer information is of utmost priority at Forum Research. All data transmissions are secured and encrypted using up to 256-bit encryption. In addition, all of our domains are validated and hosted on our own infrastructure based out of our secure Operation Center.